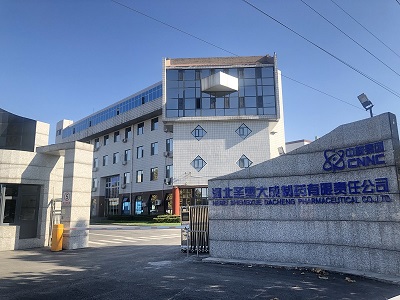 Hebei Shengxue Dacheng Pharmaceutical Co., Ltd. founded in 1997. is a large pharmaceutical company focusing on producing and marketing antibiotics, feed additives and premixes. Our company is state owned and subordinate to China National Nuclear Corporation. We set up two wholly-owned subsidiaries-Hebei Shengxue Dacheng Pharmaceutical (Tangshan) Co., Ltd. and Hebei Hongcheng Yaxin Technology Co., Ltd.


Inner Mongolia Shengxue Dacheng Pharmaceutical Co., Ltd is co-funded by China Uranium Industry Co., Ltd. and Hebei Shengxue Dacheng Pharmaceutical Co., Ltd. It was established in 2017 and products have been available to sell in the fourth quarter of 2019.


Our main products are Streptomycin Sulphate Sterile/Oral, Colistimethate Sodium, Oxytetracycline, Oxytetracycline Hydrochloride Injectable/Oral/Micronized grade, Riboflavin, Nisin, Colistin Sulphate, Colistin Sulphate Premix 10%, Neomycin Sulfate, Chlortetracycline Premix, Avilamycin, Spectinomycin Hydrochloride, Spectinomycin Sulfate, Enramycin, Zinc Bacitracin, Nosiheptide etc. We are the main producer and exporter of Colistin Sulphate in the world and have the best quality of Oxytetracycline and Oxytetracycline Hydrochloride. Our products sell well both in domestic market and other countries and regions such as Europe, US, Middle East, North Africa, India and Southeast Asia.


We have been approved by FDA, and EDQM already, and relevant Chinese GMP, EU GMP, FDA and CEP certificates have been awarded.


Our mission is to improve human living quality and health. Innovation, Value, Trust and Cooperation are our core value. By enhancing enterprise competitiveness continuously, we strive to be a leading company in domestic market and a well-known enterprise worldwide, with modern microbial technology as core, characteristic chemical medicine as main products.


We sincerely welcome friends all over the world to join hands with us for mutual benefits.